Thank you, Vicki, for being our hostess today!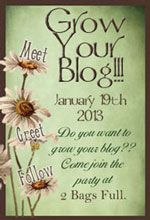 Hello, my name is, Carol. I'm so glad you stopped by for a visit today. I started blogging after I retired from teaching elementary school in 2008, I have been blessed to meet so many wonderful bloggers. They inspire me in so many ways. Even though I've never met some of them face to face I count them as friends.
Last year I made it a goal to blog all 365 days. I thought it would be fun to see if my brain could think of something to share each day. I reached my goal & I'm trying to repeat that goal in 2013.
I look forward to following your blog. I hope you'll follow me, too.
You can follow me on
Pinterest
& see the things that interest me.
Today I'm working on a little project to add to my winter mantel.
I hope you'll come back Monday to check it out!